int
2013
16 Dec, 2013
2013-12-16
Deadline for application of associate professor position (for details)
17 Apr, 2013
2013-Apr-17
Date:April, 17, 2013)
Place: 2-1 Hirosawa, Wako, Saitama, Japan
Together with RIKEN OpenDay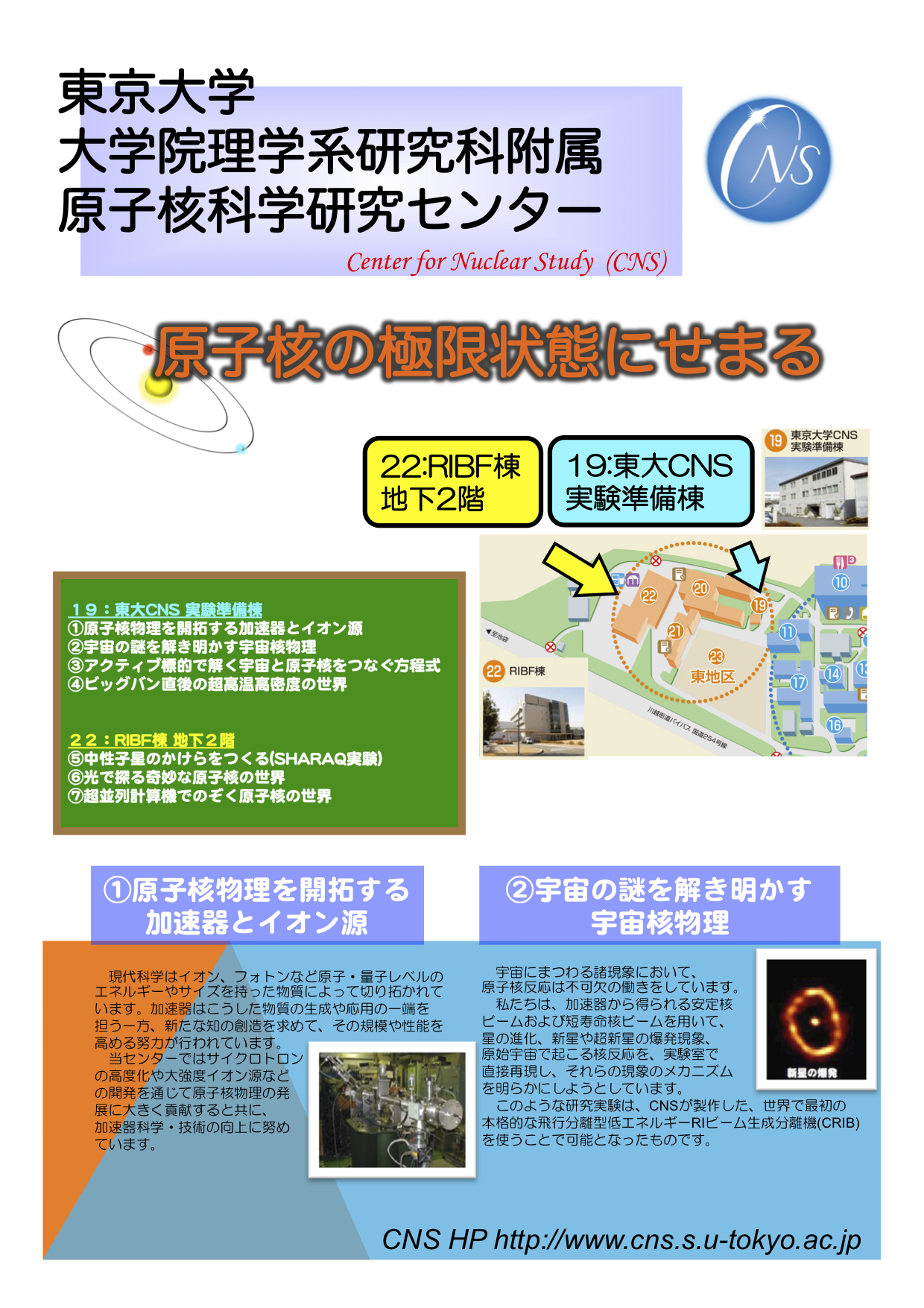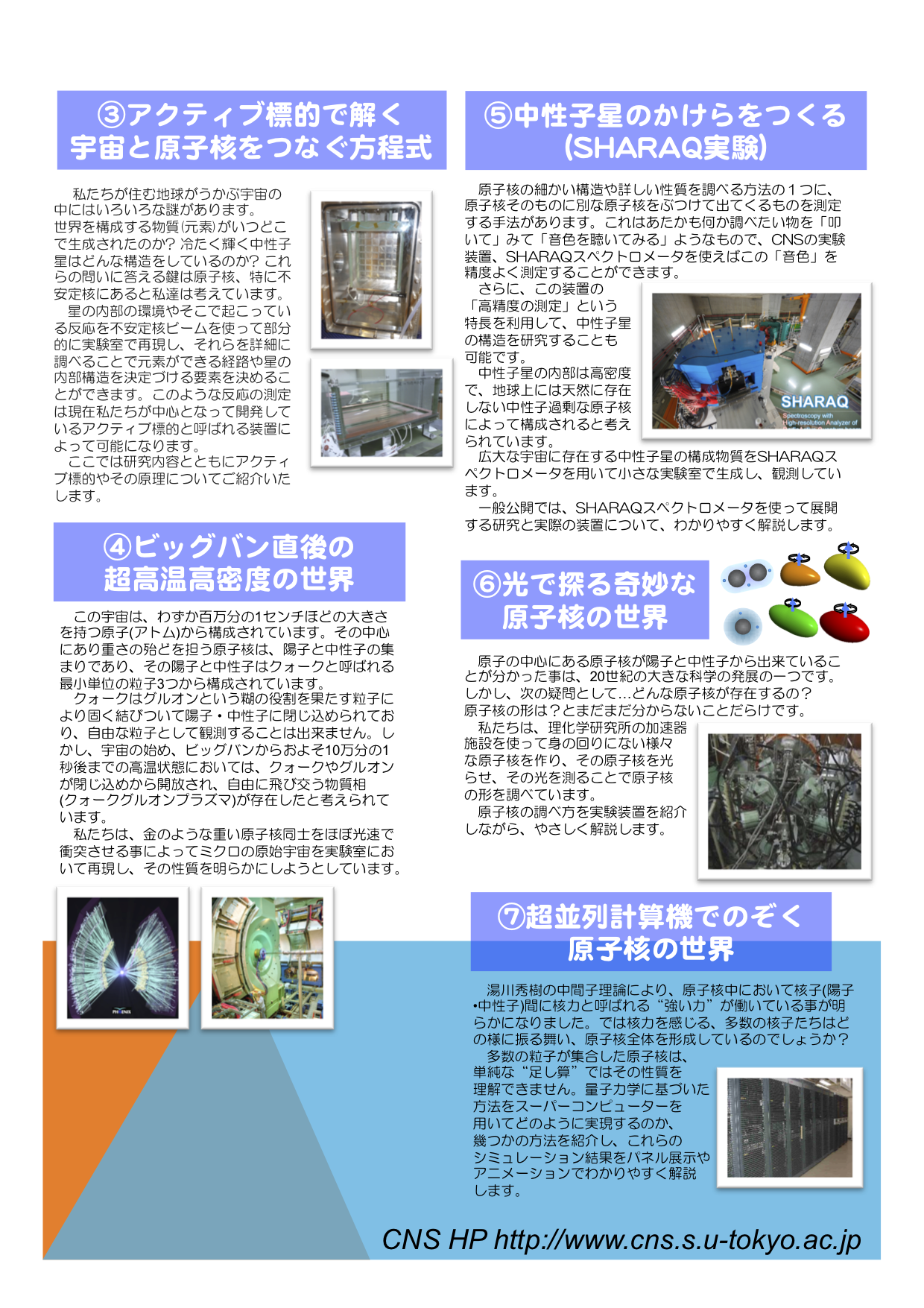 2011
14 Nov, 2011
2011-11-14
The 11th International Symposium on Origin of Matter and Evolution of Galaxies (OMEG11) was held.
18 Oct, 2011
2011-10-18
Call for a Professor
A Professor post is open for call at the CNS as below. We await your recommendations and applications.
Post: One Professor

Field of research: Experimental nuclear physics

The applicant is expected to posess an extraordinary accomplishments and be able to actively take leadership in reaserches including heavy-ion experiments and radiation measurements.

Start of work: Early H24.

Necessary documents: (1) Curriculum Vitae,(2) Curriculum of research, (3) Ambition for research, (4) List of publications, (5) Copies of 3 significant publications and (6) 2 letters of intent all in independent A4 size papers. We will not return the submitted documents.

Due: Friday Jan. 13, 2012 (No delay permitted)
Director of CNS, Takaharu Otsuka
Center for Nuclear Study, School of Science, University of Tokyo,
3-1, 7-chome, Bunkyo-ku, Tokyo, Japan, 113-0033
Print "JOB APPLICATION" in red and bring by hand or mail (registered mail).

Takaharu Otsuka
TEL: 03-3812-7886
e-mail: otsuka-at-phys.s.u-tokyo.ac.jp

◎The School of Science supports the gender equality policies. See below for details
http://www.s.u-tokyo.ac.jp/gai/sankaku/kihonkeikaku.html
30 Jun, 2011
2011-06-30
gamma11 symposium (Web Site)
2011/6/30-2011/7/2, RIBF conference room, RIKEN
21 Jun, 2011
2011-06-21
The "Review Meeting on CRIB Activities" has been held.
17 Jun, 2011
2011-06-17
A facility tour will be held at the CNS Wako campus for prospective graduate students. See for details.
Location of tour: RIKEN RI Beam Factory, University of Tokyo CNS Wako Campus
Date of tour: June 17, 2011, 15:00
13 May, 2011
2011-05-13
Guidance for prospective graduate students(See here for details)
Location: Room 1220, Hongo Campus Bldg. 4, University of Tokyo
Date: Friday May 13, 14:45~16:15
23 Apr, 2011
2011-04-23
Open day 2011
4/23 9:30-16:30 We would like to thank everyone who came to the CNS open day 2011. (Web Site)
2009
30 Jun, 2009
2009-06-30
We, Center for Nuclear Study (CNS), the University of Tokyo, have been pomorting Spectroscopy with High-resolution Analyzer of RadioActive Quantum beams (SHARAQ) and dispersion matching beamline project collaborating with RIKEN Nishina Center (RNC) under a cooperative research agreement of "heavy radioactive ion physiscs".
We have performed commisionig experiments on March and May in 2009, and successfully confirmed high resolution of the dispersion matching. For celebration this achievement, we will hold the ceremony with RNC. Date : Jun. 30th, 2009 16:00-17:00 Ceremony at 2F conference room in RIBF, RIKEN 17:00-18:00 Tour (for invitee) 18:00-20:00 Celebration at Hirosawa Club